Jackson Township maintains 56.61 miles of township roads and developments and 11.98 miles of State road, with a staff of four full-time and three part-time employees.
The following summarizes the major activities undertaken by the road crew:
* Roadway resurfacing
* Snow plowing and application of anti-skid materials
* Pothole patching and pavement repair
* Crack sealing
* Maintenance of four traffic signals
* Maintenance of bridges
* Traffic line painting and installation of traffic signs
* Grading of roadway berms and shoulder areas
* Installation and maintenance of storm sewer systems
* Tree trimming and grass cutting along public right-of-way
* Park maintenance, including athletic fields, hockey courts & the quarry
* Municipal vehicle and equipment maintenance
The crew also maintains the sewer collection systems which is made up of one pump station, three metering facilities, thirty miles of various pipes and five-hundred manholes.
DRIVEWAY PERMITS
Question: When do I need a driveway permit?
Answer: If your driveway is attached to a Township road, a Township alley, or within the right-of-way, you will need a permit whether the driveway is going to be new, or if you are resurfacing it.
PARKING AND STORAGE OF VEHICLES
In Jackson Township, automotive vehicles or trailers of any kind, without current and valid license plates and/or state inspections, shall not be parked or stored on any property other than a completely enclosed building or properly approved junkyards. Additionally, such vehicles shall not be stored along public streets in any zoning district.
ROAD KILL
If you would like to report road kill, please use the following guidelines:
If it is on a Township Road call the PA Game Commission – Southeast Region at 610.926.1966 between Monday and Friday, 7:30 am & 4:00 pm.
If it is on a State Road call Penn Dot – Lebanon County at 717.272.6637 anytime, including weekends & holidays.
SNOW EMERGENCY
In the event of a Snow Emergency, the following roads are Posted as Snow Emergency Routes. Please keep your vehicles off these roads during a Snow Emergency.
Franklin Avenue
Between North Locust Avenue & Good Will Avenue

Jackson Avenue
Between North Locust Avenue & Good Will Avenue

Cricket Lane
Between Kutztown Road & Stracks Dam Road

Butterfly Drive
Between Cricket Lane & Ladybug Lane

Ladybug Lane
Between Cricket Lane & Beverly Drive

Firefly Dr
Between Ladybug Lane & Houtztown Road
Beverly Drive
Between Ladybug Lane & Katy Lane
Katy Lane
Between Beverly Drive & Houtztown Road
SNOW REMOVAL
The following roads located within Jackson Township are maintained by the Pennsylvania Department of Transportation:

State Route 501
State Route 422
State Route ELCO Drive
State Route Weavertown Road
State Route Royers Road
Since one of Jackson Township's major tasks for the winter season is snow removal, the township is asking the public's cooperation by implementing the following guidelines when clearing snow from sidewalks or driveways.
Do not push snow out onto the road at anytime. This creates hazardous conditions for all vehicles. Note: The results of this activity will be a citation issued from the state police.
Snow should be plowed or shoveled to the right side of the driveway, as you are facing the intersecting roadway. (See diagram below.) By plowing away from the direction of the oncoming snow plows, this action will prevent the bulk of the snow from being pushed back onto the driveway. Eliminate snow piles at the driveway entrance whenever possible. High accumulations of snow will obstruct the vision of motorists when exiting from the driveway and hinder the ability of oncoming cars to see you pulling out of the driveway, creating another potential for accidents.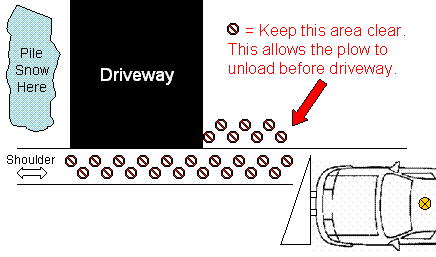 Accidents: Property owners are encouraged to adhere to State guidelines when plowing / shoveling snow off driveways which lie adjacent to State roadways. A cooperative effort must be made to maintain consistent, safe and passable roadways. Jackson Township suggests property owners follow these reminders in order to eliminate the potential for accidents happening. Homeowners can be held responsible for accidents that are a result of snow being shoveled unto township roads. The township makes every possible effort to keep roads passable at all times but there have been incidents where property owners shoveled snow onto township roads that had already been cleared by township crews. Not only does this create a hazard, but if an accident occurs as a result of this action, the homeowner may be held liable.
Mailboxes: Mailboxes that have been knocked down as the result of snow removal are a concern to the Township, as well as the property owner. Every attempt is made to avoid damaging mailboxes, although the main goal is to ensure that all snow is removed from all travel-ways and shoulder areas. Mailboxes that are too close to the road or are mounted on poor supports are sometimes toppled. Wet, heavy snow also increases the damage incurred by Township trucks during the season. Snow removal is the sole responsibility of the property owner. Chances are mailboxes will be toppled, as this type of snow has more force when being pushed off the plow. Any mailboxes posted in the Township's Right-of-Way remains the responsibility of the mailbox owner.
Procedures: During any significant snowfall the goal of the Township road crew is to clear or remove all snow from the roadways in order to provide all motorists safe and passable roadways. All main thoroughfares are priority with the secondary roads being the last to be cleared. While every effort is made to accommodate all Township residents, there may be a delay in plowing services for some secondary areas. Understanding and cooperation is the key to success during this period of time.
FINAL PAVING FOR NEW LAND DEVELOPMENTS
If you are a resident in a new land development, you are probably wondering when the roads or streets will be final paved. This work is usually done at the end of the project following the construction of most homes and a final inspection of home improvements such as curbing, sidewalks and sewer lines by the township engineer. Final paving may be delayed for some time pending the inspection and a completion of all public improvements.
If your street is to be dedicated to the township, that dedication will not occur until all work is completed and accepted. This is an important process and must be done properly.
Your patience with any delays is appreciated.